Celebrate April as National Pest Management Month:  For over 30 years the National Pest Management Association (NPMA) has celebrated the courageous men and women working tirelessly in the Pest Control Management industry during the month of April.
Considering all the work, training and dedication that is involved, these passionate professionals truly deserve a noteworthy appreciation and acknowledgement for the hard work they perform daily.
Pest Risk Analysis & Assessment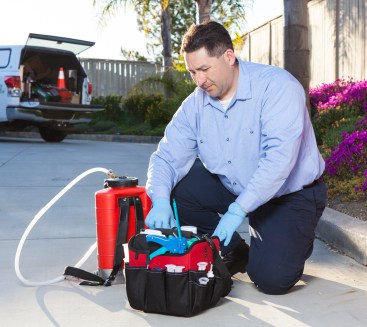 Pests have plagued our homes and businesses for centuries. They do more than give me people a case of the crawlies and heebie-jeebies. They can potentially cause excessive damage that can impact your bank account heavily, or transmit diseases, bacteria, germs, and contribute additional allergen particulates. Professionals in the pest control industry have accomplished a remarkable contribution in managing pest populations and rescuing home and business owners from stressful situations from an assortment of insects, rodents, wildlife, and birds inflicting their property.

Pest Inspections & Control
Insects such as bees, hornets and wasps can be a real hindrance on outdoor activities, especially for those severely allergic. Thanks to the brave experts in pest control; stinging insects are relocated away from the festivities.
Mosquitoes, bed bugs, ticks, fleas and other blood suckers are quickly abolished with pest control professionals trained to execute inspections and locate colonies or nests. Termites, carpenter ants, rodents and other nuisance wildlife members are stopped in their damaging tracks.

Celebrate April as National Pest Management Month
Homes and businesses are liberated from the destructive force these pests inflict from the warriors that fight the good fight in the pest control industry. In a nutshell, those that chose to protect as a part of the pest control soldiers are doing the country a huge favor in preserving our homes, businesses and loved ones from the corruption of pests. April is designated to observe their aid and to offer a little recognition and appreciation.
In honor of Pest Control Management Month, we at Control Exterminating would like to offer some tips to contribute to minimizing pest intrusion in your home.
– Install or replace weather stripping along doors and windows to ensure they are properly sealed.
– Appropriately seal any holes, gaps and cracks on the exterior of your home. From top to bottom, check the home for any entry points. Service pipes or vents should be guarded as well to prevent critters from gaining entrance to your home.
– Keep firewood stacked away from the home, along with any cluttered, useful materials. Dispose of refuse piling up; keep lids tightly secured on trash bins. Keep trees, bushes, grass and other vegetation neatly trimmed and pruned away from the home.
– Contain any leaks or standing water sources.
– Avoid leaving pet food out for long periods of time.
– Inside your home, repair leaky pipes or faucets to remove water sources or damp conditions pests find favorable.
– Remove clutter by donating the things you do not want. Discard trash, recycle the reusable items, and neatly put your belongings away in an organized fashion.
– Keep trash lids secure on the garbage cans and be sure to clean them out periodically.
– Spring clean cupboards and pantries. Dispose of fallen crumbs and spilled food and ingredients and seasonings. Properly contain food in seal-able containers. Avoid leaving food packaged in cardboard, paper or flimsy plastic pests can easily gnaw through.
Call Control Exterminating to schedule a maintenance routing to keep them out of your Manhattan NY home.