Control Exterminating: The Leading Exterminator in NYC
At Control Exterminating we ensure that no business owner or homeowner in NYC has their property infested with pests. All your pest solutions can be found with our top-of-the-line services. Give us a call to see how we can best assist you.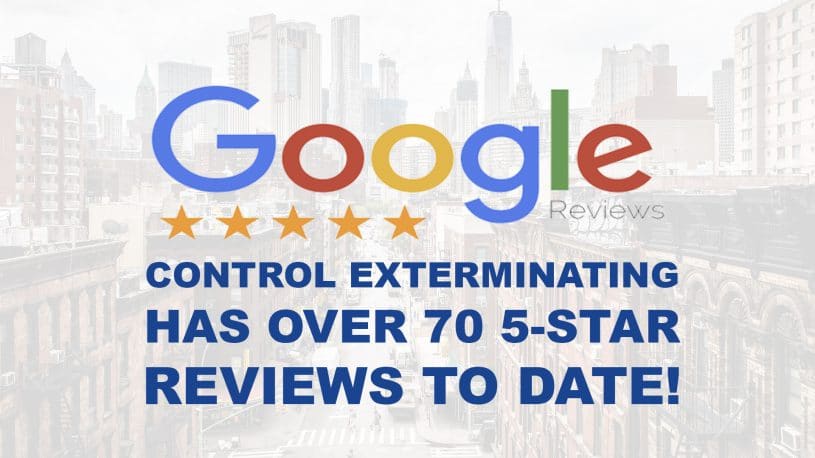 Control Exterminating proudly serves Queens, Brooklyn, Manhattan and the entire New York City area.
Read Up On NYC Pest Control News
"We have used the services of Control Exterminating since 1982. They are very knowledgeable and provide quality services with that personal touch. We would recommend Control Exterminating to anyone. They offer all of your pest control needs at very affordable prices.
~ Nancy Silver, NYC
I must say that in my experience, there is nothing worse than having a bed bug problem!!!! Nothing had made my family feel so uncomfortable and grossed out!! A friend recommended Control Exterminating and we gave them a call. The total ease of mind which they gave us was pricelss. I can't recommend them enough! They solved that nasty problem and the customer service was fantastic.
~ Mark Giller, NYC
I have known Barry Kimmel and his company Control Exterminating (collectively "Control") for almost 20 years. He has been servicing Algin Management Co., LLC's buildings for over 30 years. Control provides fast, safe and reliable exterminating service at a reasonable price. More importantly, Control and Barry are always willing to go out of their way to provide advice on how to handle a situation or meet with governmental agencies on a client's behalf to ensure proper compliance with applicable codes. I strongly recommend Control Exterminating for all of your exterminating needs.
~ Dan Hockstadt , NYC Managing Agent,
Algin Mgmt Co., LLC
I was really upset that a cockroach problem got so out of hand that I had to call an exterminator.  But Control Exterminating was wonderful.  The staff put me at ease, explained the procedure, went about their business, and now I can cook in peace. What I recall about the extermination procedure is the staff – thorough and reassuring.  And they got the job done!
~ Susan Macaluso, NYC
Control Exterminating came to my rescue and took care of a severe roach and silverfish problem. Control was professional, thorough, and most importantly took care to ensure my dog would be safe from any chemicals used.  I highly recommend you make Control your first call for your exterminating needs.
They get the job done!
~ Jay Stuart, NYC
Experts in All Inner-City Problems in NYC
Free Consultations & Estimates from Control Exterminating  •

Commercial Pest Control, Residential Pest Control & Restaurant Specialist For Proper Pest Control.


Experts In Bed Bugs, Rats, Rodents,

 

Roaches, Fleas, Mouse, Mosquito, Earwig

& Waterbug Control
The stress associated with a pest infestation could be overwhelming, which is why in Manhattan, our exterminator NYC service makes it our primary goal to rid your property of the pests, and educate you on how to keep them out permanently! Control Exterminating has been providing professional Manhattan pest control in NYC for four decades, and our team is ready to take on any job immediately.
We understand urban pests, and we do not just put a Band-Aid treatment on the problem; we will eliminate it. Our team can handle any and every problem. We even handle pest control in commercial establishments, including restaurant pest control services, which is our specialty. We'll make your business a safe environment for workers and consumers.
Control Exterminating is one of the finest local pest control companies New York knows and appreciates. Why rely on a different customer service and a different exterminator every time out? You can get to know our staff and technicians and see the level of experience and the commitment to eliminating your pest problem.
Aside from pest control services in NYC, we also cover Brooklyn pest control and Queens pest control. So, whether you're in Brooklyn, Queens, or NYC and need an exterminator, you can count on Control Exterminating Company for guaranteed pest removal services.