What are Bed Bugs?
Bed bugs are parasites that feed on human blood and we need bed bug removal professionals. These pests do not have wings, and they are approximately 1/8 inches in length. Bed bugs are small, and reddish-brown in color. Bed bugs are typically most active at night – this is when they find sleeping humans to feed on.
Call Now for fast service 212-847-3842
Common Hiding Spots
During the day, bed bugs will hide out in:
mattresses
couches (or other types of furniture)
cracks in the walls
crevices in woodwork and floorboards
inside of other protected gaps
books
clothing
Adult bed bug on the carpet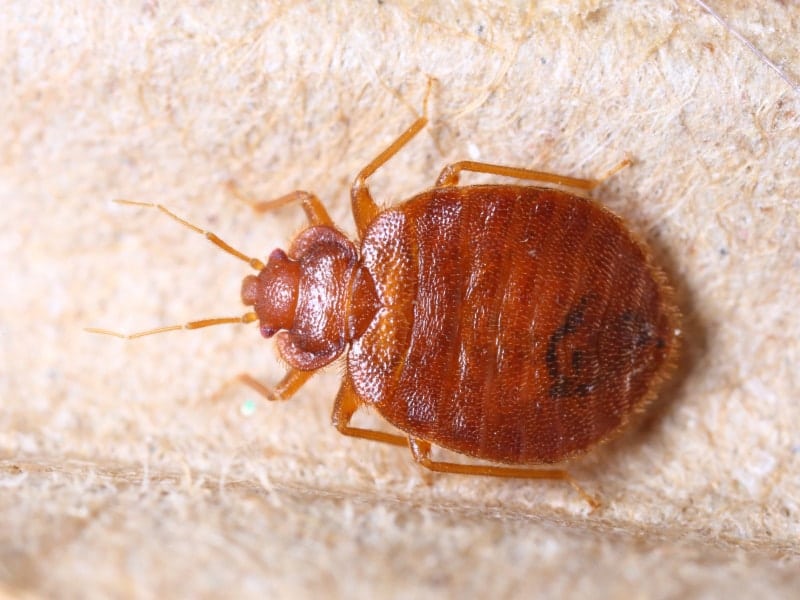 If your home becomes infected with bed bugs, you will need to act quickly.  The sooner you detect the bed bugs, the better. Early detection could help you prevent the number of bed bugs in your home from increasing. Control Exterminating is the pest control company that will work to get the bed bugs removed, and educate you on how to keep them away. For more than 40 years, we have been providing pest control services to businesses and homeowners in NYC, and we are available to help you year-round.
The Process
If there's a musty smell, you develop a rash or there are blood stains on your bed, you may be dealing with a bed bug infestation. The sooner you get in touch with an exterminator, the better, bed bug infestations grow by the minute.
Control Exterminating uses a very comprehensive method for treating bed bugs in and around the metro area.  
Our bed bug exterminators are qualified to visually inspect for bed bugs and they are also NESDCA certified to use dogs during bed bug inspections. Our canine team along with our exterminators is capable of effectively identifying any size bed bugs problem.
Organic pest control, also known to some as green or eco-friendly pest control; such as heat or freezing, works well, as does the use of chemicals. We offer various methods based on the extent of the problem. 
Evaluating Your Home For Bed Bugs
When there are bed bugs, every inch of your home or building has to be evaluated. This ensures that the bed bug eggs are identified, in addition to the smallest bed bugs. 
Sometimes, spiders, fleas, carpet beetles, mites and other bugs could actually be the problem that you are experiencing in your home, apartment, building or hotel, instead of bed bugs.  
When you have bed bugs, our exterminators have to meticulously check your armchairs, desk chairs, clothes, clutter, corners of your rooms, table chairs, rugs. Our exterminator will analyze them all to make sure that none of the bedbugs begin to migrate while we are completing the bed bug treatment. 
Addressing the Problem
When you have a bed bug problem, you never have to move out of your apartment because we would quickly address the problem for you. 
Control Exterminating will be able to effectively treat your problem with only a couple of visits spread out over a couple of weeks. 
We're happy to treat every area of your home, we also use mattress covers to protect your furniture while treating your infestation. 
When our canine scratches any area of your furniture, this gives evidence of bed bugs or bed bug eggs. 
Then what does our bed bug exterminators do next? 
Our exterminator will start to evaluate the extent of your bed bug infestation. 
Our exterminators are able to decide the level of bedbug activity that is occurring in your home. They usually determine this by the number of living bedrooms in order to determine the right way to treat your bed bug problem. This will enable them to effectively eliminate any cycles of bedbugs. 
Our exterminators will perform an inspection and perform your initial treatment. Within a weeks time we will begin our second process and finally, a third treatment plan will occur for your whole home. 
With our bed bug process, we make sure that old, young, fleeing or those bedbug eggs that have just hatched are dispersed and their hiding places are sterilized. 
After about thirty days we will usually follow-up to see if the infestation has been completely eliminated without a trace. 
Why Control Exterminating
At Control Exterminating, we have been able to maintain our certification by the NYPMA (New York Pest Management Association) as specialists of bed bugs since 2009. 
Getting rid of a bed bug problem cause for vigilance when treating furniture and other household items in a room infested with bed bugs. 
We always provide you with instructions so that we do a thorough job. 
This includes: 
How to handle laundry

 

How to seal your items

 

De-cluttering the area

 
Especially those areas that are not always visible that may be full of loose items of clothing and other things. These areas include underneath your bed and the floor of your closets. 
Washing clothes

 

When and whether to throw out certain items that may be salvageable

 

Making certain no re-contamination happens

 
Control Exterminating proudly stands by our work and are committed to making sure your problem has been eliminated.